Why postage stamps? It started when I found
this lovely Little Red Riding Hood piece
by
minoule
. It was a tiny still of a greater world, and a more reconciliatory interpretation of the original Grimm's fairy tale. I've always loved fairy tale stories. Whether they're fairy tales for kids or adult fairy tales, the stories evoke a sense of wonder and curiosity about other worlds and lives. I wanted to find more stories, more interpretations (and am
continually searching for more
!). These are some that I found: popular fairy tales contained in a postage stamp.
Fairy Tales for Kids:
Little Red befriends the Wolf.
One of the Most Popular Fairy Tales:
Hansel and Gretel explore a candied forest.
A Favorite and Classic Fairytale:
Snow White considers the apple.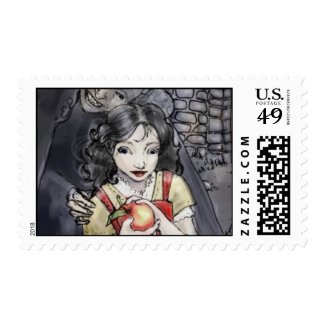 Fairy Tale Retellings:
Faerie girls the size of a seashell. (Like Thumbelina, who was the size of a walnut!)

A Humorous Look at a Classic Fairytale:
Rapunzel looks down her hair.
This Popular Fairy Tale:
A humorous take on The Frog Prince.
Retold Fairy Tales:
Little Mermaid with the biggest whale.

One of the Most Popular Fairy Tales:
Sleeping Beauty likes to dream.

Classic Fairytale:
A Cinderella ending, complete with castle, clouds, and Prince.